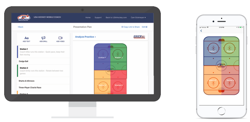 Build on desktop and sync automatically to mobile!
For the first time, USA Hockey coaches can now design a custom practice plan on their desktop computer and sync in real time to their mobile devices.
The days of scrambling to put together a plan are over. Build your plan on the new USA Hockey Mobile Coach Desktop Companion and your content is ready immediately on your linked mobile devices.
"We're very excited to roll out this new product," said Mark Tabrum, director of USA Hockey's Coaching Education Program. "We think this makes planning easier and more effective for coaches across the country who are always looking for more tools in this digital age."
A unique benefit to USA Hockey members, this platform is free to use. Coaches must have a Mobile Coach App login, available through their mobile device, and sign into the Desktop Companion using the same credentials.
The Desktop Companion also comes with the first-in-class practice plan analyzer that launched in the mobile product this season. Coaches can compare their practice plans with USA Hockey age-specific guidelines to ensure their plans are optimized for their players.
Further, the desktop version of USA Hockey Mobile Coach includes hundreds of free drills, plans, manuals and videos.
Download the user guide and start using this innovative new hockey coaching tool today.